What's New?
PSAT 2020 Sign Up

28 May 2020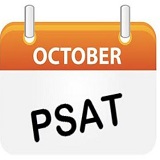 In preparation for next year, we are tentatively planning on holding the PSAT on Saturday, October 17th, 2020. The PSAT test will be open to current grade 9 students going to grade 10 and grade 10 students going to grade 11.
If you are interested in signing up for the PSAT test, please fill out this google form with your/your child's Name and Homeroom (from 2019-2020 SY).
Please visit Skoolee to pay the PSAT Exam fee (15 KD) through the "Other Online Payment" service by June 15.
Thank you,
HS Administration