About
ES November Packet Pick-Up!

20 October 2020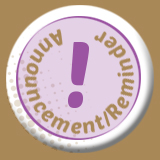 Dear Elementary School Parents,
To accommodate the needs of both our students and of our parents, we have developed a monthly packet of required material for your children to use to assist them during the online classes. The dates for November packet pick-up are Tuesday, October 27, and Wednesday, October 28, 2020 in ES Gym. Below, please find the packet delivery information for the respective grade levels.
Tuesday, October 27:
Grade 1 10:30AM – 11:30AM
Grade 2 11:30AM – 12:30PM
Grade 3 12:30PM – 01:30PM
Grade 4 01:30PM – 02:30PM
Grade 5 02:30PM – 03:30PM
Wednesday, October 28:
All Grades (1-5) 01:00PM – 03:30PM
Regards,
Nada Darwiche
Elementary School Principal