About
An Important Message from Preschool to Grade one Parents

26 October 2020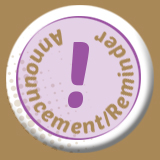 Dear Grade 1 Parents,
We hope you and your family are well.
Last month, some Grade 1 parents were not able to pick up their child's materials.
Please see this important announcement regarding the return of the materials and the collection of the hard copy report cards for the 19-20 school year.
For Grade One Students:
October 27 (October 28 alternate day)
08:00 a.m. to 12:30 p.m.
BBS Theater via PS Gate 2
1) Return any leveled books from 19-20 to clear student record
2) Pick up any student materials from last year
3) Pick up 19-20 KG2 report card hard copy
Kindly wear a mask and abide by social distancing, for the health and safety of all.
Always for children,
Anna Hutchison Fatina Khalaf
Preschool Principal Assistant Principal