What's New?
MS Parent -Teacher Conferences

02 February 2021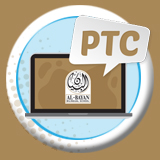 Dear MS Parents,
We are looking forward to seeing you at the BBS Parent Teacher Conferences (PTC) on Wednesday, February 3rd (3-7 p.m.) and Thursday, February 4th, 2021 (1-4:30 p.m.). To be prepared for the conferences, please note the following:
login with your child's zoom account only to join the PTC Zoom sessions.
Please click on the Teachers' Zoom links and the classes they teach.
teachers will admit each parent at the time of their scheduled appointment on Skoolee.
MS Administration and the MS Counselors will be available with their own zoom links at any time during the PTC; no appointment is needed.
A couple of quick reminders to get the most out of your time at the conferences:
· Each conference is 10 minutes in length. It is important that this time limit is adhered to ensure all parents can meet with their child's teachers at the allocated times. If you are not able to schedule an appointment with your child's teacher or need additional time with your child's teacher, please feel free to make another appointment with Ms.Wafa, MS receptionist, for the next week following the regular weekly PTC schedule.
· I would strongly encourage you to have your child with you during the conferences. These meetings discuss the learning that is occurring, so it is important that the learner (your child) is present and is a part of the conversation.
We are looking forward to meeting with you on the two PTC days.
Regards,
MS Administration