Founder
School Founder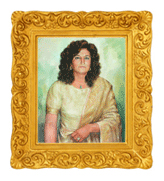 Al-Bayan Bilingual School (BBS) was established in 1977 by the visionary Fawzia Hamad Al-Sultan Al-Essa with the support of fourteen women who believed in her dream. As a Kuwaiti who was educated in several countries abroad, she valued the fundamental ingredients of a quality education but at the same time believed in the importance of an Arab heritage with strong cultural values.
In fact, BBS was the first school to embark on a path that defined the Arabic and English bilingual model and, as such, Fawzia paved the way for future bilingual schools in Kuwait. She was highly involved in the philosophical foundation of the school. Her clear vision and mission was responsible for the school's success as one of the most influential private schools in Kuwait with graduates that have proven to be responsible global citizens who are committed to Kuwait and the communities that surround it.
After she passed away in 1986, her spirit, drive, and determination to establish an exceptional school continued to flourish. As a result, BBS earned its international accreditation in 1989 by the New England Association of Schools and Colleges in the United States and the Council of International Schools in the United Kingdom. BBS graduated its first class in 1987 and since then the school is known as a center of excellence in the community. It has changed the lives of the families who have been part of Fawzia's influential educational dream.
Thanks to Fawzia's clear vision, Al-Bayan Bilingual School continues to enrich and evolve as a pioneer in bilingual education in Kuwait.