Admissions Manager's Message
Welcome to Al-Bayan Bilingual Admissions Department
BBS Admissions Department is a central department that runs the school-wide admissions process of enrolling new students from Pre-K up to Grade 12.
Our main objective is to take charge of the whole school student affairs including managing applications, entry evaluations, registration, withdrawing, communicating, and maintaining all students' information.
Admissions of new prospective students commences in the beginning of February each year. An evaluation in English, Arabic and Math is given to all applicants. Students are admitted to the school based upon several factors; their evaluation results, their previous school academic/behavior records, and the availability of seats regardless of gender, nationality, religion, or race.
When the capacity of each class is reached, students meeting the acceptance criteria, but not admitted, will be placed on a waiting list in case openings occur.
The BBS Admissions team consists of qualified and bilingual staff members who are eager to help students and families.
We take pride in facilitating the admissions process for students and families and ensuring that all students and families have a positive admissions experience.
I am happy to answer any inquiries you may have, not only as a staff member, but as a parent of BBS students as well.
Information about the admissions process is available on the website. For further questions or inquiries, please click on the Admissions Inquiry Form. To submit your application, please click on the BBS Admissions Application.
Please feel free to contact us directly through the contact details below if you need further information.
We look forward to welcoming you to Al-Bayan Bilingual School.
Sincerely,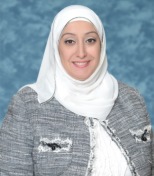 Manal Al-Shakhsheer
Admissions Manager
Al-Bayan Bilingual School
Tel.: 22275020