Middle School and High School's "Bring Your Own Device" (BYOD) Program
Al-Bayan Bilingual School believes technology plays a vital and increasing role in learning. As a result, as of SY2012-2103, the school has Wi-Fi access throughout the Hawalli campus to enable students to access the wealth of information online, use online tools to work collaboratively and enhance communication. From an instructive viewpoint, technology in the classroom further supports differentiated learning.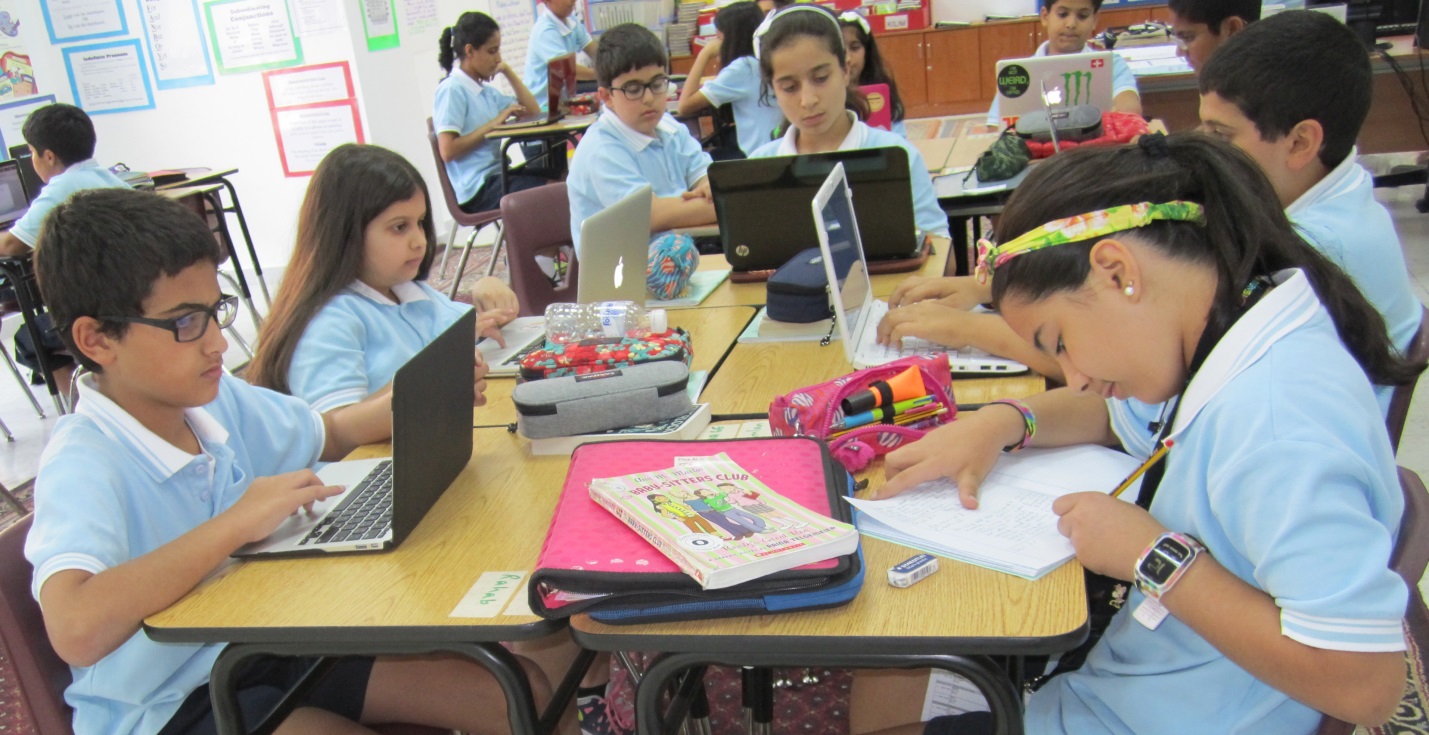 A wireless laptop community also leads to greater technology independence and responsibility. Our school has a BYOD Acceptable Use Policy in Middle School and High School that needs to be complied with. The general terms and conditions are listed below:
Terms and Conditions
All students must comply with the Acceptable Use Policy and the guidelines specified in the BBS Handbooks. The use of laptops on school premises is only permitted after registration and configuration with the Tech Help center.
Care and Maintenance:
The laptop is the property and responsibility of the student. In the event of loss, theft, or damage (whether on or off school grounds) students are solely responsible for repair and/or replacement. The IT department does not provide technical support for Internet access and connectivity issues at the student's home.
File Storage and Backing Up:
Students are responsible for managing the back-up and maintenance of computer files, folders and documents on laptops. The school is not responsible for any loss of data.
Sound:
Audio must be muted at all times unless teacher permission is granted.
Printing:
Students are responsible for their own printing: If necessary, students may print in black and white on the wireless printers in the HS/MS Library
Laptop "Dress Code":
Inappropriate media may not be used as a screen a saver or desktop background or attached to laptop accessories, including display of weapons, or hate symbols or pictures.
Transport and Storage of Laptops:
BBS recommends that all students purchase protective cases or foam sleeves for their laptops and that they be carried in a closed/zipped backpack or shoulder bag. When not in use in class, laptops should be placed in student lockers.
Loaning or Borrowing Laptops:
Students should NOT loan or borrow laptops from one another or share passwords or user names.
Personal Software:
All applications installed on laptops must be legally obtained. Music and games may not be downloaded or streamed over the BBS network.
Internet Safety:
The school filters internet traffic, and on request or suspicion, may monitor network activity. Off-campus, it is the responsibility of students and parents/guardians to decide what software or sites may be accessed. The school is not liable for what students do on the Internet at home and does not provide monitoring software.
Batteries and Charging:
Batteries should be fully charged on laptops overnight. A spare, charged battery is also recommended. Sufficient access to wired power is, however, provided in most instructional spaces in the school.
Failure to Comply with the Agreement:
The use of school IT resources and services, including access to the Internet, is a privilege, not a right. Acceptable Use Policy and the terms and conditions outlined in this guide will result in one or more of the following:
Network access may be blocked
Disciplinary action by the MS/HS administration of schools
Possible recommendation for expulsion from the school
Notification to the appropriate legal authorities for possible prosecution
The user being held responsible for damages to IT equipment, networks and hardware or software systems resulting from deliberate or willful acts of vandalism.
BYOD Guidelines and Resources:
BBS Acceptable Use Policy for Middle School